Stonemill Farms Community Association
Notice of Special Meeting
A Special Meeting of the Stonemill Farms Community Association will be held on:
Monday, March 25, 2019
6:00 PM
Stonemill Farms Community Center
11390 Waterview Way
Woodbury, MN 55129
651-998-0790
The purpose of this meeting will be for the Voting Delegates to vote on two (2) Proposed Amendments to the Charter. The Agenda for the meeting is as follows:
The Agenda
Establish Quorum of the Board & Delegates

Introductions

New Business

Fourth Amendment to the Charter

Fifth Amendment to the Charter

Amendment Vote Results

Adjournment
If you have any questions or concerns prior to the Special Meeting please contact:
Cordelia Cronen
Associa Minnesota
Primary Phone: 651-998-0790
Email: Cordelia.Cronen@associa.us
You can read the Proposed Amendments HERE
---
The Easter Bunny is coming to the
Stonemill Farms Community Center

Date: 04/06/2019 (Sat.)
Time: 9:30am - 1:00pm


Have your picture taken with the Easter Bunny!!
Petting Zoo**Come See the New Babies
Easter Coloring Contest
Snacks and Treats
Family Fun for All Ages
To avoid lengthy waiting times for your children, we request that everyone RSVP Please indicate how many children you are bringing: Easter Bunny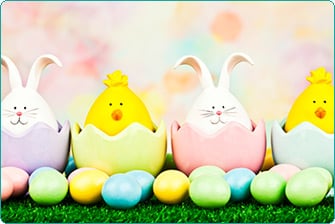 ---
Hockey and Pleasure Skating Rinks Are Open!
Hours: 9:00 AM - 10:00PM Daily
(Please note the door from the Warming Room to the Community Center is locked at 9:00 PM)
3.12 - HOCKEY AND PLEASURE SKATING RINK RULES - For your convenience the Warming Room offers benches for changing into your skates, as well as a rest room. All personal items left in the warming room will be removed and disposed of if not claimed within one week. The room has cameras and is recorded. Please see Hockey and Pleasure Skating Rink Rules on page 39.
Hockey and Pleasure Skating Rinkshours:




Monday – Sunday: 9:00 AM – 10:00 PM
Nightly closing of the rink is not announded. Please make sure you are off the ice and changing before 10:00 PM as the door will lock and you will not able to get your belongings until the next day at 9:00 AM

The Hockey and Pleasure rinks are for the exclusive use of Stonemill Farms Community Association owners and their guests. The maximum number of guestsis four (4).

Do not leave the door propped open for any reason.

To skate on either the Hockey or Pleasure rink, you must enter through the Warming Room door, not the Community Center main entrance.

For the safety of the skaters, no food, beverages or tobacco products (including vaping) are permitted on the ice surfaces.

No pets allowed on the rinks.

Skating in a manner that endangers or interferes with other skaters' safety or pleasure is strictly forbidden.

Rough housing and weaving through other skaters is prohibited.

Figure skaters should be aware of other skaters and exercise caution doing jumps and spins.

Throwing snowballs or any objects is strictly prohibited.

If an injury occurs please report it to a Community Center Staff member. In the case of an emergency, please contact 911 immediately.

Hockey sticks and hockey pucks are prohibited in the pleasure rink at the Community Center.

The hockey and pleasure skating rinks are reserved for general skaters only. Use of the rinks for organized or league play or practice is prohibited.

Hockey nets must stay in the hockey rink and shall not be used on the pleasure skating rink, ponds or any other area.

Those using the hockey rink should be aware of the risks of pucks and other skaters. Please skate at your own risk.

Profanity of any sort, including music, is not allowed.

Children under age fourteen (14) must be accompanied and supervised by an adult.

To the fullest extent permitted by law, the Owner agrees to release, defend and indemnify the Stonemill Farms Community Association and its officers, directors, employees and agents from all claims, costs, and liabilities arising out of or related, directly or indirectly, to the Owners, their children, and/or the Owner's guests use of all Association-owned amenities.

The Stonemill Farms Community Association Board of Directors may amend these rules at any time without notice.
---
Family Outing
Stonemill Farms to Target Center
Minnesota Timberwolves Game 1.06.19
---
Valentine's Carnival of Crafts
Wednesday, February 13, 2019
10:00am - Noon
Location: Stonemill Farms Community Center 11390 Waterview Way, Woodbury, MN 55129
Come and enjoy a morning of Valentine themed crafts, games and a snack.
This event is set up so that you and your child(ren) can move at your own pace through these activities. You'll depart with your cute crafts, good memories, and a special treat!
Please register for this free event
https://www.signupgenius.com/go/60B044AA4AD29A6FC1-valentines
OR
Co-Hosted by Stonemill Farms Community and
Woodbury Lutheran Liberty Ridge Campus
---
Casino Night
Saturday, February 16
6 PM – 9 PM
Travel back in time to Las Vegas of 1960, and the effortless cool of the Rat Pack.
Our live casino will bring a wide variety of games that offer endless thrills, excitement, and end of the night prizes. Light appetizers and drinks will be served. Be Swanky! Costumes and retro style dress are encouraged to capture this iconic era of Las Vegas glamour!
This event is for Stonemill Farms residents ONLY. (Age 21+)
RSVP Required by February 16
https://www.signupgenius.com/go/60B044AA4AD29A6FC1-casino
---
Stonemill Farms Brings It Home Again!
Association of the Year
Front Row Left to Right: Sofia Niaz, Shiney Vang, Carol Severson, Tanya Daniels, Caroline Maddux, Cordelia Cronen
Back Row Left to Right: Justin Voigt, John Eiselt, Nathan Cornelius
Congratulations
Stonemill Farms Community!
---
2019 Events - Mark Your Calendar
Feb 13 Kids Valentine's Day Themed Carnival of Crafts
Feb 16 Adult 21+ Casino Night
Apr 6 Easter Bunny Visits Stonemill
May 4 Annual Pond Clean Up Day
Jun 1 Stonemill Farms Annual 5K for Charity
Jun 28 Independence Day Celebration
July 6 Music at the Pool
August 10 Music at the Pool
August 11 Family Outing St. Paul Saints Game
Sep 27 Oktoberfest
Nov 22 Holiday Kick-Off & Tree Lighting
Dec 7 Santa and His Reindeer Visit Stonemill
---
CONGRATULATIONS!

Stonemill Farms Community Wins Again!
2017 Outstanding Community Building
By An Association
Caroline Maddux, Justin Voigt and John Eiselt accept the 2017 CAI award for Outstanding Community Building By An Association.
This award is given to the association that does an outstanding job at community resourcefulness, has a strong sense of commitment to enhancing the community, and recognizes and uses the strengths of its individuals within the association to build a better community for all homeowners.
This award is not easy to win and there were some pretty great communities nominated this year, but for the second time in three years, Stonemill Farms Community won it!
---
COMMUNITY EVENT CALENDAR
Get the most up to date information on Stonemill Farms Community Events on the Community Event Calendar.
All Community Events are highlighted in orange.
Click on the link below!
---
Pet Reminder
When out walking your pet, please remember to clean up their waste. Thank you!
---
Did you know we have a Facebook page? Please stop by and Like the page and say hello!
https://www.facebook.com/stonemillfarmscommunityassociation/
---
-